Wow. The Knicks got their muthaphuqin' hood stomped out in a major way last night. To top it all off, the game was nationally televised. Gotdayum...104-59. I haven't seen a beatdown the court that bad in a hot minute. Wow. Kevin Garnett only scored 8 points, but Paul Pierce and Ray Allen picked up the slack by dropping 21 points a piece. The Knicks had one guy (Nate Robinson) in double figures, and that came as a result of a 37 foot prayer at the end of the game. Wow.

After a 4-10 start, an embarassing court scandal, inflated the teams payroll to one of the highest in professional sports, and reducing one of the great franchises in NBA history to a laughing stock, how on earth do you NOT fire Isiah Thomas?



Oh yeah, these are the Knicks we're talking about.
Posted byEnigmatik at 8:11 AM 0 comments Links to this post    
Labels: Boston Celtics, New York Knicks
bull Reports


Thursday, November 29, 2007


Bulls sick of Skiles? (Insider)
John Hollinger

Remember, an 8-game win streak gets us to .500!
Posted byEnigmatik at 4:03 PM 0 comments Links to this post    
Labels: Chicago Bulls
In a recent SI.com interview, Jason Kidd let it be known that he has daydreamed, with Lebron James, of a day when the two of them would be playing with each other [II] in Cleveland. Say word?


"There's a little talk,'' Kidd said. "But I told him, 'What-ifs can get you in trouble. You go out there and do your thing, and if I don't get to play with you until this summer [at the 2008 Olympics in Beijing], then that's the way it's meant to be. But the big thing is for you to go out there and lead your team.' And that's what he's doing.''
WOW. That would actually be kind of crazy... Lebron is the type of player we'd need in New Jersey: a cat with a shot, but also having the size to bang with the big boys. It would never happen, only because we'd have to give up so much, and I can only imagine what kind of deal
Thorn
would put on the table to send Jason Kidd away.
It's all hogwash, though, because (at least today), Jason says he will not be trying to force a trade. That's good news for the Nets, because unless Lebron falls into his lap, I don't think Rod will be trying to throw Jason Kidd out there. Without Kidd, the Nets would surely fall apart. He is such a big part of their run-n-gun offense, and leads the team in boards (which kills me to no end). But Kidd is also 34 (and will be a free agent at age 36)... I don't think he'll be a Net if he stays with them until his free agency. And with LJ being a) so young and b) getting better every year, it might just make sense for him to go to the Cavs.
God help us all.
Posted bykhal at 11:00 AM 0 comments Links to this post    
Labels: Cleveland Cavaliers, NJ Nets, Trade Talk
HOT Damn!


Wednesday, November 28, 2007
2 games into our big west coast road swing, 2 W's added to the tally. Tonight's win over Phoenix (
100

-94
) is the best I've seen my boys play so far this season 16 games in. Yao goes for another double-double with
31
poontas &
13
boards. T-Mac's
18
is buoyed by
6
dimes. Hell, even Skip chipped in with
15
. The bench effort was spearheaded by tonight's 6th man, and my personal MVP of the game, the Franchise. Only
9
poontas on the board but they came in clutch moments. Add
7
dimes and
1
huge block of a Marion shot late in the game = momentum changer!
After routing the Clippers on Monday
(

88

-71
)
,
this win over the Suns runs the current win streak to 3, coming off that 6 game stankah!
Oh yeah, the game face was pleased:
and
there
it is...
Posted byFishbone at 11:20 PM 0 comments Links to this post    
Labels: Dem Rockets
Spotted over at Konsole Kingz:



Midway says this will be dropping in Spring of 2008 for both the PS3 and Xbox 360. I loved the PS2 game, and would probably own you with my custom character JOE COOL if you came over for a session. Peep the official NBA Ballers website for more details.
Posted bykhal at 3:02 PM 0 comments Links to this post    
Labels: Video Games
How we let the Grizzlies win one over us, after coming off that high from the Thanksgiving break is beyond me. The last thing I was wanting to see was a Nets loss to Memphis, 109-103, in NJ. We just didn't let it connect: our (lack-of) defense allowed FIVE Grizzlies to hit double digits, including 19 from Mike Miller and 22 from Paul Gasol. And even though Jason Kidd recorded his 91st triple-double, and we had strong performances by Richard Jefferson (27pts, 5 dimes) and Vince Carter (32 pts., 7 dimes, 9 boards), as well as a solid 13 points from Antoine Wright, we just didn't have it.

The one main factor was us just getting into the rhythm of the game at a slow pace. Was it the jetlag? RJ himself made comments like "all my shots were short. Anytime I made one I was surprised they went in", which is a boohoo for a 12 year old trying to get his weight up. A premier leader, a guy who is already getting All-Star game nods, he needs to be making sure he comes out with that confidence, or an attitude that will help elevate his squad. The Nenad Krstic injury factor does not help, but they played well without him last year, so it has to be something else.

In watching the post-game press conference, I had to chuckle at a comment Jason Kidd made. He was asked if he knows why his team seems to win more on the road, and he made a deadpan "maybe because there's more people in the seats" comment which cracked me up, but then made me realize that, hell, I've never been to a Nets game in my life. I've seen the Sixers, the Bulls and the Knicks, but never peeped the Nets. I do my part to support at home, and ride with my heart even if the chips are down. But there has to be something said about the rush that a crowd can give you...

But it was a joke, and the Nets letting the Grizzlies eek one out over them is a joke. Look, fix up the defensive holes, stop falling into 18-point holes, hold these teams to the normal "nothing over 80" point battles that New Jersey is known for, and keep excelling in that team-oriented idealism. Without that, it's a wrap.
Posted bykhal at 11:03 AM 0 comments Links to this post    
Labels: Memphis Grizzlies, NJ Nets, recap
Ghostface Killah f/Kid Capri - "We Celebrate"

We beat the Hawks! We beat the Hawks! We beat the Hawks!

Ok, now that we got that out of the way we can get down to business. The bulls managed to break their four game losing streak and pick up a much needed W at the U.C. Let's take a look at this mess.

Luol Deng has had two solid games in a row after returning from a back injury. Deng had 22 points and 9 rebounds on .500 shooting. Ben Gordon had 21 points and 6 rebounds, but his 5 turnovers are an eye-sore. Ty Thomas had great numbers in limited action - 8 points and 12 rebounds in 20 minutes of action; 3-10 shooting is piss-poor though. Ben Wallace had 6 points and 12 boards, Andres Nocioni had 11 points and 8 rebounds, Chris Duhon had 11 points and 7 assists, and Joakim Noah had 5 points and 7 rebounds in 18 minutes of action.

As for the Terr-a-bull of the game, Kirk Hinrich continues to win that award. Four points, three assists, two turnovers, and four fouls in 17 minutes of action from our starting point guard. One of those turnovers came when Hinrich had a wide open layup on a fast break and he chose to toss the ball back to Joakim Noah who of course, wasn't expecting the pass. I don't know who this guy is, but will the real Kirk Hinrich PLEASE return to the bulls?

It's a good win because the Hawks have shown a bit of promise so far in this young season, plus a win is a win. I was beginning to wonder if we'd get another win this season and I'm glad to be writing a bulls win post than another TBLA post.

If we go on an eight game win streak, we'll finally be playing .500 basketball.
Posted byEnigmatik at 12:21 AM 0 comments Links to this post    
Labels: Atlanta Hawks, Chicago Bulls, recap
Sneakerfiles
has the scoop on these, a special Pony Uptown dedicated to "Chocolate Thunder". The color scheme is based on
Darryl Dawkins
' 76ers jersey from when he used to murder many a basket rockin' his Uptowns. The tongue comes with
"53" stitching
, and there's an
engraved signature
on the side. I don't think I'd rock these, but for you limited edition sneaker freaks, get on these EARLY!
Posted bykhal at 11:24 AM 0 comments Links to this post    
Labels: Hall of Fame, Kicks, Philadelphia 76ers
I don't have the will power to wait 10 games to write another recap, so I've decided to just go ahead and write whenever I feel like it...or probably every 4-5 games...or before a HUGE ROAD TRIP. The latter is the case here. We hit the road, beginning at the 'Clip joint tonight for a 4-game west coast swing. After LAC tonight follows PHX, GS, and Sacto'. At 7-7 we need to go 3-1 on this trip to consider it successful. 2-2 won't cut it, and I don't even wanna think about anything less than 2 wins. The Clippers have been just as inconsistent as we've been up to this point, so this game tonight is a toss-up. And now, the recap:

Nov. 17 v. Phoenix L 115-105

This loss extended the streak to 4 as Phoenix just ran us right out our own damn gym. Anytime Nash goes for 12 or more assists...trouble! The Franchise finally found his way to the court for the first time this season and put up 8 poontas in 23 mins.

Nov. 21 v. Dallas L 100-94
I already threw up in my mouth over this one.

Nov. 23 @ Miami L 98-91
D-Wade played like D-Wade. Shaq didn't want to be outdone on his homecourt by Yao (Shaq 26 poontas-14 boards Yao 20-7) and wasn't. Luis Scola was fan-dam-tastic in a losing effort as the streak reaches 6 L's in a row.

Nov. 24 v. Denver W 109-81
Both teams were in the 2nd game of back-to-backs, so there were no excuses. Whatever Coach Adelman said on the plane ride back from Miami punched all the right buttons. This game was basically over after the 1st quarter with a 21 pt. lead. Good to see The Franchise get a little more run in this one LEADING the bench scorers with 10 poontas. This is the type of loose, exciting ball I've been hoping to see since Adelman took over. Great way to break the losing streak, and head out for a big road trip.


Aiight, tip off with the Clippers is in an hour, time to put my gameface on


and there it is...

Posted byFishbone at 8:54 PM 0 comments Links to this post    
Labels: Dem Rockets
I hate to say I told you so...

My Nets, after beating Portland right before Turkey day, kept the ball rollin', grabbing wins over both the Sonics and last night's 102-100 win over the Lakers (who've slipped to 3 loses in a row), WITH Kobe Bryant putting up 31 points. RJ came up with 27 points, followed by Carter dropping 19. Hell, Bostjan Nachbar dropped 9 of his 15 in the 4th quarter. J. Kidd rounded the stats out with a solid double-double, and we overcame a pretty sad first half to capitalize on the Lakers' misfortune and pull it out.

Good to see Sean Williams getting his props - although he only had 6 points, he tied Kidd with 7 boards last night. I love that presence in the paint. We've always needed a banger and a scorer, and with Vince back, our package looks like it's wrapped and ready to be opened come playoff time. One bad thing to see is Nenad Krstic. NetsDaily has some choice links to some articles describing his situation. I describe it like this: bench dude until he gets better. I won't say get rid of him as of yet (he can be a beast when he's healthy and full of fire), but 2 months on the bench, while "giving him a taste" from time to time doesn't seem like a proper assessment. It just feels like a waste right now. I can only hope he does return to proper form, because if he is off, I will be the first one signing that petition to get him out of New Jerz.

In any case, I am very happy that my Nets are not in their rut anymore... but this being the Eastern Conference, things can change in an instant. I hope we can ride this wave a bit longer...
Posted bykhal at 12:46 PM 0 comments Links to this post    
Labels: Los Angeles Lakers, NJ Nets, Portland Trailblazers, recap, Seattle Supersonics
Download this mixtape that Enigmatik posted on the Boom. It's mixed by Mick Boogie, is helping push the new L23 V.5, and features loads of today's hot tracks, as well as a few exclusive remixes and such.

Tracklist:


Mick Boogie: The LB5 Intro
Sixth Sense: December 30th
Saigon and Jay-Z: C'mon Baby
Jay-Z and Nas: Success
Cassidy and Kanye West: Drink and My 2 Step
Ghostface: Celebrate
Lil Wayne and Juelz Santana: Duffle Bag Boy Remix
Young Jeezy: National Anthem
Shawty Lo and Young Jeezy: They Know
Al Fatz and Paul Wall: Main Attraction
Kanye West and Jay-Z: Everything I Am (Terry Urban Remix)
Nas and Jay-Z: Survivin' The Times (Mick Boogie Remix)
Jay-Z: Roc Boys
Kanye West: The Good Life
Kanye West and 50 Cent: Flashing Lights (Mick Boogie Remix)
50 Cent and Akon: Still Will
Freeway and Lil Wayne: Step Back
Octane and Illite: Dunk Low Pro
Wale: Nike Boots
Play Havoc: Witness
Boom.
Posted bykhal at 8:51 AM 0 comments Links to this post    
TBLA. 2-10


Sunday, November 25, 2007
I had to wait a few hours to cool down after seeing the bulls lose their fourth straight game. The road trip was a complete disaster with the bulls picking up one win in six tries. I am completely embarassed to call the bulls my team and I am thisclose to packing it in for the '07-08 season.

I think it's safe to say that this week should be Scott Skiles' last week as coach of the bulls. I am sick and tired of reading the same inept quotes from him, game after game. This team is obviously learning nothing from its past mistakes and continues to find new and more embarassing ways to lose.

Yesterday, we caught an L against the Knicks. The Knicks. The muthaphuqin' Knicks. I don't even know where to begin with analysis of that massive L. We didn't even crack 80 points against the Knicks. The Isiah Thomas-led Knicks. Stephon Marbury's Knicks. The supermassive-payroll-havin', sexual harassment case-catchin' Knicks. When your team loses to the Knicks, go ahead and start booking hotel rooms in Secaucus.

Z-Bo and Eddy Curry are ready to slaughter an all-you-can-eat buffet after slaughtering the bulls:



The bulls brass thought it would be a good idea to hold the untradeable Luol Deng out of the game against the Knicks because they didn't think his back would hold up under the grind of back-to-back games. You know, since in the NBA you only have to play your best guys when they're perfectly healthy and the games that you sit them out don't really count. Anyways, Luol managed to work his way back in the line up and put up 21 and 9 in the losing effort. I guess that plan worked, eh Skiles?

Chris Bosh gleefully reviews the score in the final seconds of the Raptors' win over the bulls:



Let's see what else happened with our "best" players in the past two disgusting losses:

-Kirk Hinrich: 84 minutes, 26 points on 11-29 shooting, 3-9 from 3 point land, 1-1 from the free throw stripe; 6 rebounds, 11 assists, 5 turnovers, 8 fouls.
-Ben Gordon: 78 minutes, 30 points on 11-35 shooting, 1-6 from 3 point land, 7-7 from the free throw stripe; 6 rebounds, 7 assists, 7 turnovers, 4 fouls.
-Ben Wallace: 79 minutes, 8 points on 4-10 shooting, 0-1 from 3 point land, 0-2 from the free throw stripe; 17 rebounds, 2 assists, 1 turnover, 5 fouls.
-Andres Nocioni: 72 minutes, 34 points on 11-30 shooting, 5-15 from 3 point land, 7-13 from the free throw stripe; 17 rebounds, 5 assists, 2 turnovers, 7 fouls.
-Tyrus Thomas: 34 minutes, 11 points on 4-13 shooting, 3-5 from the free throw stripe; 12 rebounds, 2 assists, 2 turnovers, 7 fouls.

These numbers are feces.

It is very safe to say that the bulls will not be among the elite teams in the NBA this season. I don't know where it all went wrong but it is very disturbing and very sad. The management of the bulls failed to address the teams' weaknesses coming into this season and those weaknesses have been exploited at every opportunity. The strengths that the bulls once had have vanished into the past and the only thing looming on the horizon is a shot at the number one draft pick in 2008. It is possible that the bulls can turn things around but there have been absolutely no signs that they are capable or even willing to get back to their winning brand of basketball.

If you'll excuse me, I will now eat my bulls fitted cap.


Posted byEnigmatik at 5:03 PM 0 comments Links to this post    
Labels: Chicago Bulls, New York Knicks, recap, Toronto Raptors
Remember how I mentioned that the Houston Club All-Stars were looking forward to Diddy's party after catching an L, courtesy of the Mavericks? Well, here are some snapshots of a few of them being the life of the party. For good measure, I threw in a few photos of some groupie types as well. Coincidentally, the Rockets went down to Miami and caught another L. Mysteriously, there was no sign of Bonzi Wells or Stevie Franchise at Diddy's party. I think they got a head start in South Beach. Withouth further ado...

Sean "Diddy" Combs, lookin' like someone's chaperone.



Lil' Kim, before riding someone's Magic Stick later that evening.



T-Mac actually hyperextended his fingers while posing for this photo. He's listed as day-to-day.



Chuck Hayes, Mike James, and someone's weed carrier take in the sights and sounds of the party.



DeSagana Diop of the Dallas Mavericks surveys the groupie landscape. To the victors go the spoils, my friend!




and for some of the ladies of the evening:

...



The top of the gal, 3rd from left, looks familiar...



...and here's why! I prefer it on this chica. Actually, I prefer it on the floor next to my bed, but that's another blog. Zing!




To quote my brother Fishbone - "And there it is..."
Posted byEnigmatik at 5:13 AM 0 comments Links to this post    
Labels: Dallas Mavericks, Dem Rockets, Groupies, Houston Rockets, In Da Club, inDmix, We Be Clubbin'
On the total flipside, I need a quality NBA game for the PS2. Something not too expensive, but combining a dope gameplay experience with loads of stat/managerial control. Any ideas?
Posted bykhal at 4:05 PM 0 comments Links to this post    
Labels: Killer Crossover
So Thankful


Thursday, November 22, 2007
You ever notice how when your team is getting stomped on, it's "damn, they suck", but when they win, it's "WE WON!"?!!? I lived that out this morning when I checked the boxscore of last night's six-game losing streak-snapping win, IN PORTLAND, with Vince Carter lighting a fire under my Nets, helping them eek out a score of 106-101. Jason Kidd grabbed his 90th(!!) career triple-double, RJ knocked out 30 points, and early word is out that Sean Williams is moving up in the rookie rankings for both the NBA and ESPN.

Hopefully, we can continue on this path. NetsDaily has a boatload of links (as per usual) pertaining to last night's game.
Posted bykhal at 11:24 AM 0 comments Links to this post    
Labels: NJ Nets, Portland Trailblazers, recap
What up y'all...this here's a little feature known as NBA Live where I drop my thoughts/recap after I attend an NBA game live and in the flesh. Like to hear it? Hear it go!

First of all, shout out to my boy Keith for hooking me up with the dope tickets. We got to the Toyota Center a little bit after tip-off and the Rockets were leading 8-4. It was relatively ho-hum, so I scanned the crowd to see if could find some recognizable faces and/or fly chicas. Among the recognizable faces - Sean Combs was in the house along with Grammy winning producer Bryan Michael Cox, Mario Williams and Andre Johnson of the Houston Texans were there as well, and Steve Francis was in the crowd as well. Huh? What's that you say? Steve Francis plays for the Rockets?! Get out of here!

Anyways, back to the first quarter action. It was pretty high scoring and the Rockets had looked good out there in transition. T-Mac got a nice dunk over Dirk NowiDallas looked pretty sluggish out there and I'd attribute that to their 24 point comeback in a victory over the Raptors the night before. They still managed to remain close throughout the first quarter, which ended 30-25 in the Rockets favor. My boy Keith is a die-hard Dallas fan which made for interesting interactions with the Rockets fans that were surrounding us. More on that later.

During a break in the action, the Rockets Power Dancers hit the floor and you know what? They got some dimes, yo. I may have to find one dime from every team's dance squad. This lady right here was the lady I selected as my Houston boo for the evening:



The action picked up in the second quarter as the Mavs got a little bit more life to them. Brandon "Big Mouth" Bass apparently got the green light from Avery Johnson because everytime he touched the ball he was looking to score. The rookie out of LSU wasn't shy at all out there and showed good poise. Keith got a kick out of Bass' play, yet wondered aloud as to why Bass was suddenly the go-to guy for the Mavs. I slowly sipped my beer as I pondered why my team was 2-8. But I digress. The Mavs pulled together to go into halftime with a one point lead.

Halftime, I called my boy King to tell him about the dimes that were in the house which led to this exchange:

E - Yo, son...they came out tonight.

King - GotDAYUM! There's some stunnas in there?

E - (watching a stallion pass) Donk.

Random black man who heard me and turned in the direction I was looking - DAMN!

E (to RBM) - Yessir!

King - Nothing brings men together like a nice, phat donk.

Say word, yo. Say word. By the way, that random black man had on some Dickies overalls lookin' like a train conductor or some shit. Out of all the gear to rock to the basketball game, he chose his train conductor 'fit. But I digress.

Back to the third quarter action where the shit talking between Keith and the Rockets fans escalated. The trash talk started out fairly good-natured, but as the game wore on the tempers started to flare up. The Mavs were absolutely atrocious in the third quarter as it appeared that no one would step up to put up much of a fight against the Rockets. Yao put in some serious work throughout the game and ended up with 30 points, 15 rebounds, 6 blocks, and 1 assist. More on Yao's game in a bit. The MVP of the league wasn't very aggressive throughout the course of the game and his game play showed me that the Mavs won't ever win a title behind the leadership of Dirk Nowitski. It's a young season, but Dirk should be playing like a man possessed after last season's debacle.
It was around this time when Sean Combs decided to become a story larger than the game. It was truly hilarious when the arean announcer incorrectly identified Mario Williams as "Diddy" on the jumbotron. Good times.

At the start of the fourth quarter, the guys behind us continued to rag on my buddy, Keith. After being outscored 28-15 in the third quarter, Keith was non to pleased by the play of the Mavs. The dudes behind us continued to remind him that Dallas sucks and was a gay town, among other terms of endearment. I merely sipped my last drink as all this nonsense was swirling around me. More good times. I told Keith that if the Mavs didn't make some sort of run within the next 3 minutes (it was at about the 11 minute mark of the fourth), then they may as well pack it up and head back to Dallas. Well....guess what the Mavs did? Yep, they went on a nice run to pull to within about 5 or 6. Keith was loving it and the guys behind us were suddenly resorting to lame jokes about the city of Dallas. The Rockets pulled away for another few minutes, but to quote Rasheed Wallace "them butt holes got tighter and tighter" as crunch time approached. Yao performed well for most of the game but in the clutch his shots were suddenly shorter than they had been. T-Mac had a near triple-double, but wasn't aggressive enough in the final two minutes of the ball game and took a few questionable jumpers.

The key play was when the Mavs were down by 91-89 when Devin Harris drove hard to the hoop and was fouled by Yao for the and 1. The Mavs took the lead and never looked back. 100-94, game over. Mavs win. I think T-Mac, Bonzi Wells, Mike James, and Steve Francis (the Houston Club All-Stars) were all looking forward to Diddy's party at Hush later that night. As a matter of fact, I'm positive that Steve Francis was wearing his outfit for the evening underneath his Rockets' warm-ups. This game was a snapshot of typical Rockets basketball, ladies and gentlemen. The dudes behind us were pissed as Keith was gloating over his team's victory. Words were exchanged and the situation was about to escalate until they realized that a fight in Toyota Center wouldn't have been a good look.

All things considered, it was a decent game. After losing five games in a row, the Rockets no longer look like an elite team and the Mavericks showed that they can overcome adversity if they put their minds to it.
Posted byEnigmatik at 8:59 AM 1 comments Links to this post    
Labels: Dallas Mavericks, Dem Rockets, Houston Rockets, NBA Live, recap
Sometimes a loss leaves such a terrible taste in your mouth that you've got to say something about it. This is the case following tonight's performance against the
Mavs (L 100-94)
. How in the hell can we consider ourselves to be one of the better teams in the Western Conference if we can't put teams away when we have them down. A 17 point lead midway through the 3rd quarter...blown. Rafer has his best shooting night of the season in going for 18 including 3 3-pointers...worthless Yao has an impressive 30-15-6 blocks performance...wasted. A few careless turnovers, and the lack of a noticeable killer instinct do not leave me with a warm and fuzzy feeling going into this holiday.
Happy frickin Thanksgiving...now how far did I throw my
Rockets
fitted? I need it for Friday's game in Shaq's place.
and there it is...
Posted byFishbone at 5:58 AM 0 comments Links to this post    
Labels: baby, Dem Rockets
Any Michael Jordan fan who was a shorty in the late 80s/early 90s knows this video inside and out (or should). Come Fly With Me was the definitive story of MJ from childhood to NBA prominence. From the back cover:


You've never seen anything like this before. A tape that's all Michael Jordan--over 40 minutes on this electrifying videocassette. Michael Jordan: Come Fly with Me features: Rare footage from college. Spectacular highlights from his NBA career and All-Star games. Michael at home, on the golf course and in the air. Slam dunks and gravity defying shots galore. Exclusive footage available only on this video. The Whole Michael Jordan Story. See it to believe it.
And some great soul put it up on YouTube... in 7 parts:
Part 1
Part 2
Part 3
Parts
4
,
5
,
6
and
7
.
Be thankful for MJ.
Posted bykhal at 4:48 PM 0 comments Links to this post    
Labels: Chicago Bulls, Hall of Fame, youtube
Maybe he heard my pleads. Word on the street is that Vince Carter (who is listed as "day-to-day" currently) was seen practicing with the Nets yesterday, with a possibility of him suiting up for tonight's game against the Trailblazers (both NJ and Portland share the same record, and the Blazers just came off a loss to the Bobcats - but are undefeated at home). I'm feeling this, given that Carter isn't coming back too soon. The last thing we need is one of our top shooters with a more severe injury than he already has. We need that guy, for good or ill.

Don't let the Jason Kidd-trade chatter get to you, he has said that he is not trying to be traded. And not trying to be funny, no one else is really giving the Nets what they should be getting for him. He might be old but he's an instant boost to any team's offense (as well as defense, he is a monster on the boards) - but his age puts him in some wack category. His best bet would be to try and influence proper trades/acquisitions for the Nets. Get another pure scorer, maybe someone who can help Sean Williams mature, and let it roll.

In any case, Vince suited up tonight would be an ill treat. Let's hope he comes out, and that all systems are go, health-wise. And take heed to what dude at BlazersEdge says about tonight's game - is he a scout?
Posted bykhal at 10:11 AM 0 comments Links to this post    
Labels: NJ Nets, Portland Trailblazers, precap
TBLA. 2-8


Tuesday, November 20, 2007
Fire Scott Skiles. Trade Kirk Hinrich.

Until the bulls get to .500 basketball, they will remain with the lower case 'b'. Now that we've got that out of the way, let me tell you how angry and embarrassed I am to call myself a bulls fan. Scratch that...I can't even put into words how angry and embarrassed I am. I'm writing this crap and the game isn't even over yet...

Kirk Hinrich, I don't know what the hell happened to you but enough is enough...if Skiles is going to stick around, he needs to bring Hinrich off the bench and start Duhon. That's right, the bulls' shitty play has made me officially lose my mind. Scratch that...Scott Skiles needs to be fired and Kirk Hinrich can be traded for 3 medicine balls and an elliptical machine for all I care. Skiles has not adjusted to coaching against NBA teams this season and is plainly calling out to John Paxson to terminate him.

Man, fuck this. I'll post a laink to the ESPN.com recap when the slaughterhouse is over.

*Update*
The game is over and we have officially lost. 112-91. 112. To 91. Bumbaclot. I will now puke on my bulls fitted.
Posted byEnigmatik at 11:12 PM 0 comments Links to this post    
Labels: Chicago Bulls, Denver Nuggets, recap
ROCKETS RECAP
Thru 10 games:
6-4
T-Mac games missed & record without: 1 & 0-1
I have to admit, that after the first 7 games of the season I was ready to anoint my boys as true title contenders until our first "bad loss" of the season (@ Memphis) and the slide that commenced from there. In my eyes a "bad loss" (BL from here on out) is a loss to ANY team with a sub .500 winning percentage, and one that will haunt you later in the season when the playoffs are approaching. I'll be keeping a running tab on these as the season goes on. You'll also see a running total of number of games missed by our most important player, Tracy McGrady (T-Mac). Why T-Mac? Good question. From the beginning of the '06-'07 regular season up to today, we are 2-9 in games without T-Mac in the lineup. I know that injuries happen, but if we can manage to post a .500 record in games that he'll miss, we maintain a shot at a top 3 playoff seed. Let the recap begin.
Opening night Oct. 30 @ LA Lakers
W 95-93

Kobe was Kobe going for 18 in the 4th quarter and ended up with a game high 45 for the Lakers and had a shot to tie the game knocked away by Rafer as time expired to seal the win for us. Battier's 3 pointer with less than 3 seconds was the game-winner as we come out the gate with a W.
Nov. 1 @ Utah
W 106-95
Eff Utah! T-Mac drops 47 as we win going away.
Nov. 3 v. Portland

W 89-80



The Blazers are a scrappy bunch and will surprise a few teams this year.
Nov. 5 @ Dallas L 107-98

Mavs finished with 5 players in double figures…we had 2. End of story.
Nov. 6 v. San Antonio

W 89-81
A great win in the 2nd leg of a back-to-back Texas two-step. 5 players in double figures and Yao going for 28 was the difference.
Nov. 9 v. Milwaukee W 104-88

The first battle for China bragging rights goes to Yao with his 2nd straight 28 point effort.
Nov. 11 @ Charlotte W 85-82

A potential BL avoided when T-Mac drew a charge with 3 seconds left to seal the deal. A game when the stat line is deceptive: Bobcats 5 players in double figures, Rockets with 2 (Yao & T-Mac combined for 60)
Nov. 13 @ Memphis L 105-99

T-Mac's second 40+ effort of the season, but the team seemed flat from the start. BL #1 for the season.

Nov. 14 v. LA Lakers L 93-90
T-Mac leaves the game before halftime after straining his right elbow. Bonzi gives a spirited effort in his stead in the second half but Kobe was clutch down the stretch finishing with 30

Nov. 16 @ San Antonio L 90-84
Game 1 without T-Mac and Bonzi plays like crap. Luis Scola was impressive with 20 off the bench but too much "Timmay" and Ginobili down the stretch for the Spurs.

A three game slide and no T-Mac to close out the first 10 games of the season…my hopes for a 59-23 regular season record remain intact. See ya in December after our next 10.

And there it is…
Posted byFishbone at 7:12 PM 0 comments Links to this post    
Swagger - How one presents him or herself to the world. Swagger is shown from how the person handles a situation. It can also be shown in the person's walk. (source – Urban Dictionary)

Nowadays it seems as if swagger is everything. In hip hop, it has become the un-official fifth element. You've got rappers like Jim Jones, Juelz Santana, and Baby's baby who are adored by mindless youngsters based on the perception of their swagger. In basketball, players like Allen Iverson, Kobe Bryant, and Dwyane Wade have all been described as having swagger on the court. When it comes to hoops though, I believe the originator of modern day swagger is one Wilton Norman Chamberlain.

Wilt's swagger was impeccable and set the standard for modern day swagger. Besides being the original most dominant player ever, Wilt was quite simply a man among boys. I could go on and on about his on the court exploits, but you already know what it is with that. Wilt had many crazy stats and records but one number stands out from all the rest – 20,000. That's right…Wilt the Stilt bagged 20,000 birds in his lifetime.

Now that number is mind numbing just when you think about it, but when you really analyze all the circumstances behind 20K then there is no choice but to tip your fitted cap to the Big Dipper.

Wilt was chasin' skirt at a rate that has been unmatched and this record will stand longer than his 100 point game record. This was at a time when athletes weren't making the type of paper that they make now, groupies hadn't yet evolved to their current manifestation, and Myspace hadn't been invented yet. 20,000, yo!

Check it out; if we take Wilt's 20,000 belt notches and adjust for inflation, we'll see that Wilt really would have smashed and dashed out on 160,270 skip skap scallywags, hussies, trollops, and other assorted loose women in today's terms!* Astounding!

On top of all of this, Wilt was a NUPE. Achievement in every field of human endeavor, indeed.

All of these factors combined prove that beyond a shadow of a doubt that Wilt Chamberlain not only originated modern day swagger, but he may have had the most swagger of all time. It truly would have been interesting to see how Wilt would have matched up against Superhead…I'm sure a tape of that exists somewhere.



We salute you, Wilt.

*Based on a completely random formula that I made up using information from the most accurate source for information on the planet – Wikipedia and an inflation calcualor.
Posted byEnigmatik at 4:19 PM 1 comments Links to this post    
Labels: Groupies, Hall of Fame
Check out the frustration in Jason Kidd's face. It's one thing to be in a slump (which the Nets are, losing their last 6 games, placing them at 4-7 so far); its another thing entirely to be the lowest scoring team, with the highest turnovers. That combination's deadlier than North Philly streets. The thing that kills me is, we don't need to be losing 102-75 to the Jazz. I can stomach a loss, but damn near 30 point differential? Something is not right. Then I gasped and, if I was a coffee drinker, I would have dropped my mug...

We need Vince Carter. I hate to say it, because I've never been a fan of his work ethic as it comes to performing for a team. He has hops, is a dazzling dunker, and can shoot the lights out... when he wants to be. He will post up his 20+ points a night, for himself, but imagine if Vince was there last night, and posted just 20 points - that's a 7 point defecit that could have been worked on in crunch time. Think of the possibilities! And when someone like that is hot, it helps their teammates (especially newcomers like Eddie Gill, who did work with 10 points in the 4th), pumping them up, and when the Nets get on that roll... they are seemingly unstoppable in their run game.

Richard Jefferson was the only Net starter in double digits, scoring wise, which is to be expected, but it's not enough when a guy like Kidd can't make a shot to save his life (but he can, and does, voice his disgust for how the team is playing as of late).

One thing I did notice was Kirilenko only dropping 2 last night. Dime recently spoke on how AK is definitely not happy, but kind of keeping it on the low. I wonder how long he's going to chill on a team that's almost keeping him on the low. We'll see how this develops...

In the end, the Nets need to get rid of some of that waste and cop a scorer. Not a shooter, but a scorer, so they can at least keep up with some of the true Beasts of the '07-'08 season.

Is it too late to say "it's still early"? John Hollinger doesn't seem to think so, but it looks like both he and mad other journalists are saying the Nets are only declining in the power rankings... One can only hope Hollinger is right. Dime said it best in today's "NBA Hit List 11.20.07" post:

20. New Jersey Nets (4-7) — They haven't won since Vince went down with an ankle injury, and were just embarrassed Monday night against Utah. Jason Kidd is still leading the team in rebounds, followed by RJ and Vince. That's three perimeter players, if you didn't know. Forget character issues; they had to draft Sean Williams, and he needs to play a lot.
I've been saying the same exact thing, especially about the rebounding from their top three perimeter players. So true.
Posted bykhal at 12:04 PM 0 comments Links to this post    
Labels: NJ Nets, recap, Utah Jazz
Name: Fishbone
Born: 4/13/ 19 seventy-something
Location: Houston, TX
Height: 5' 7"
Weight: 215
Age: 3???
Position: Asst. Coach
2007-2008 Salary: Married w/ a daughter…I got 4 bucks!
Fishbone learned to be a basketball nerd early in life. The son of a high school varsity referee, he traveled to many a game as a young'n learning at the grassroots level. Unfortunately, his game never measured up to his acumen and he later became a bookkeeper/clock operator in Middle School. After being voted the best intramural referee as a freshman in college, he, as a sophomore was the head coach of the championship winning intramural b-ball squad (a team comprised of his football teammates) posting an 8-0 record and winning by an average margin of 17 a game. Fishbone is a Houston Rockets fan, and will ride with his boys. He eagerly proclaims that this will be the year that T-Mac, not only, wins a first round series but takes the Rockets to, at least, the Western Conf. Finals.
Fishbone will drop in with periodic 10-game columns about the Rockets…unless some other hot topic opens up.
Oh yeah...
Hoya paranoia baby
, always been a fan.
Posted byFishbone at 7:09 PM 0 comments Links to this post    
Yeah, Kobe...your team smashed my team like an Idaho potato. Mos Def.

I knew my happiness wouldn't last long. This game was different though. This game was a glimpse at what we could have gotten...perhaps...maybe?

The Bulls faced off against Kobe Bryant and the end result was horrific. I figured Kobe would drop 60 on us just to prove a point, but it was actually the Laker bench that dropped 73 on us. If you'll recall, I mentioned in my last post that the Bulls' bench was impotent. Well, I didn't say it in those terms, but I may as well have.

First of all, why is Adrian Griffin starting? What does he provide besides that old man, back you down in the drive way and shoot a two foot basket-type of game? Veteran leadership/experience is fine and dandy, but enough is enough. Tyrus Thomas played six more minutes this time out and put up 2 points and 1 board. Joakim Noah got off the bench and played 6 minutes and pulled down 3 boards. Joe Smith played 18 minutes and had as many turnovers as points (4). Thabo Sefalosha appeared from thin air to chip in 9 points and coughed the ball up 4 times. Last but not least, Chris Duhon chipped in 8 points.

Back to the starting lineup, Ben Gordon continues to lead the way in scoring. Nocioni was close behind Gordon's 20 with 14 points, 6 rebounds, and a team leading 5 fouls. Nice work, Nocioni. Ben Wallace failed to pull down double digit rebounds even with Kwame Brown out of the game for the Lakers. The more I write, the more I get depressed....and then there was this nugget of wisdom from Kirk Hinrich:


"We're just inconsistent, myself included. Everybody just needs to do their job, and hopefully we'll find our way out of this thing."
Kirk, you're wrong. You are not inconsistent. You've been consistently terrible all year long and it's a bit of a concern to me. Three for eleven from the field, 8 assist, and 6 freaking turnovers?!? Woo-saah....
Meanwhile...the Mamba smirks...
The Lakers had 11 out of 12 players contribute to the scoring with 5 out of 7 bench players scoring in double figures. Kobe barely had to do anything and almost outscored the Bulls by himself in the third quarter. At this point, I'm positive that Kobe is wondering why on earth he ever thought about playing for Chicago. That dream...is dead. We are now 1-2 on our six game road trip.
Next up, The Bulls take on Carmelo Anthony, Allen Iverson, and the 7-3 Denver Nuggets. I am not sensing good things.
Posted byEnigmatik at 11:56 AM 0 comments Links to this post    
Labels: Chicago Bulls, Kobe Bryant, Los Angeles Lakers, recap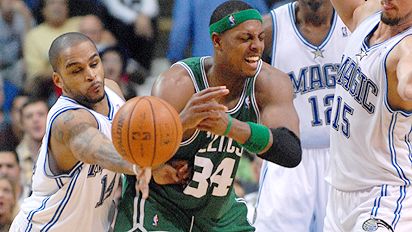 A few nights after Dwight Howard handed my Nets another L, he lead the Magic past the Celtics, eeking a 104-102 win, and handing the Celts their FIRST L of the 2007-2008 season. It's kind of interesting, seeing the Magic at 9-2 right now (I know, I know, it's early, but this team used to be on the bottom of the heap for MANY years), and it's interesting to see the Celtics trailing by 20 at one point. They ended up bridging the gap, but it was still not enough, as Paul Pierce missed a J that could have sent them into OT.

This isn't SUPER devastating; I mean, Boston and Orlando are the beasts in the East right now... but I just liked seeing the Celtics fall. As long as their top 3 stay healthy and keep up the cohesion, they should have a great record this season.

Recaps: FOX Sports \ ESPN \ CelticsBlog
Posted bykhal at 9:16 AM 0 comments Links to this post    
Labels: Boston Celtics, Orlando Magic, recap

Spotted @ Sneaker Files. Just not appealing to me.
Posted bykhal at 8:45 AM 0 comments Links to this post    
Labels: Kicks
Look who turned in a solid performance...Ben Wallace made me eat my words by turning in the type of game that I expect from him on a nightly basis - 9 points, 13 rebounds, 3 blocks, 6 steals, and 1 assist. I have no problem eating my words and hope to do it on a regular basis. Good job, Big Ben.

Ben Gordon and Andres Nocioni both had good games as well. Gordon had 25 points, 5 rebounds, 4 assists, 2 steals and a block; Nocioni chipped in with 21 points, 8 rebounds, 2 assists, a block, and a nice flagrant foul that rattled the Clippers. One thing that I can say about Nocioni is that he is a scrappy guy who gets under the skin of everyone he plays against. He's definitely the kind of guy who you love to have on your team and hate to play against.




It ain't all peaches and cream though...bad news on the home front is that Luol Deng is going to be missing in action due to a back injury that forced him out of last night's game. He was on his way to a good game as he contributed 10 points, 7 rebounds, 2 assists, and a block in 27 minutes of action before being sidelined. This is not the news that Bulls fans want to hear and hopefully the injury isn't too severe and he returns to action quickly. Point guard play continues to be an issue as our starting point guard dished out 4 assists while coughing the ball up 3 times. That isn't a terrific assist-to-turnover ratio, for those of you counting at home. Four shots made out of fourteen attempts isn't helping the team cause either. Kirk - get it together, QUICKLY. Tyrus Thomas appears to be chained to the bench and that fact bothers me. Eight minutes of action? I know that we got great play out of our starting front court, but only eight minutes for Ty? The bench play was pretty much non-existant; although I do appreciate Chris Duhon's 4:1 assists-to-turnovers. Is Thabo on our team any more?

The Bulls did a good job of containing the Clippers last night. Cuttino Mobley was kept in check and didn't play nearly as well as he did in the United Center. Chris Kaman was held to single-digit rebounds and only three players on the Clippers reached double figures.

This was a much needed and good win for Chicago. Next up for the Bulls will be Kobe Bryant's Lakers. It should be an interesting game to say the least.
Posted byEnigmatik at 2:40 PM 0 comments Links to this post    
Labels: Chicago Bulls, Los Angeles Clippers, recap
Old pic, I know, but it was the look of tonight's game. Richard Jefferson wemt 4 for 19 shooting, scoring 15 (!!) points, while Jason Kidd rocked his 89th career triple double... and we still lost. Granted, the Magic came into the Izod Center with a solid record, but come on. Letting Dwight Howard rock a double-double, breaking the record as the new youngest player to grab 3,000 rebounds? Nets shooting under 30% from the field, and losing their fourth straight?

I'm at a loss. And we play Miami tomorrow night. Think we can get out of that one with at least a close score?
Posted bykhal at 11:27 PM 0 comments Links to this post    
Labels: NJ Nets, Orlando Magic


See if you recognize any of these 11 guys.
Posted byEnigmatik at 4:45 PM 0 comments Links to this post    
Labels: youtube
Can it be that it was all so simple?
I was watching ESPN a week or so ago, and the commentators (which included ya boy
Stephen A. Smith
) were discussing the obvious downward spiral the Heat are on right now (currently 1-7 - and soon to be 1-8 tonight when they play the Celtics - in the Southeast Division). The onus, with
Dwayne Wade
just getting back from an injury, has been on Shaq trying to get his head in the game. Smith even made comments about not being surprised if
Shaq
hangs it up or his game continues to deteroirate due
his off-court situation
. While I get that Shaq needs his time to deal with his wife seemingly hiding funds behind his back, and get that dealt with, why bring the team down with you?
D-Wade is talking about
trying to "get Shaq motivated"
, as if he just shot a movie and was living the high life. With Shaq averaging something like 15 points and 6 or so rebounds a game,
I
could be out there in his uniform and playing his minutes for him. I think Shaq either needs to take some serious time off or stop the shullbit and get his mind right. The strain of a divorce has to be wild - from the dividing of assets to the kids, everything has to be finalized to a T. And that costs mad loot in and of itself - I don't think Shaq wants
Shaunie
to get
broke off like Juanita did
! But on the same token, the Heat don't have to suffer more than they already would without him there. His under performance is insulting, and could be avoided if he just did what he knows he needs to do: ish or get off the pot.
All in all, though, I am glad the Heat are out of the Nets way. So, good luck to Shaq, I hope you got the ill
Cochran
lawyers - you gonna need 'em!
Posted bykhal at 4:18 PM 0 comments Links to this post    
Labels: Miami Heat
Very early word; so early, no terms of the deal have been released as of yet. NetsDaily reports that this was a move that was anticipated once heads new that Darrell Armstrong was out. I'm definitely psyched to see if dude, along with guys like Sean Williams, can help give the squad the jolt they need to be true contenders, and not just making the playoffs due to the lack of competition in the East.

But does being #1 pick in the D-League equal quality NBA play? Especially given that dude has been around the block once? We shall see...
Posted bykhal at 10:41 AM 0 comments Links to this post    
Labels: NJ Nets
Man...I don't even know what to say at this point. I watched a good portion of the game and....*sigh*. It's just painful, man. Ben Wallace is a massive waste of money. Kenny and Charles were right in saying that he probably regrets signing with the Bulls. It is painfully obvious that he does not fit in with the Bulls and I sincerely wish we would have kept the much younger Tyson Chandler. At the time, I just knew we were winning the East with Big Ben on our team but I neglected to notice the fact that his stats have been declining every year. He provides no offense and now is providing little defense and little rebounding. In short, he's not earning his pay check.

As for the other areas of the Bulls' sub-par game play, the point guard position is looking incredibly shaky. Hinrich seems to be more comfortable playing off the ball. His shooting has been terrible and he has been turnover prone as well. Hinrich has taken several steps back in his game play this year.



Luol Deng hardly looks untouchable at this point. His shooting percentage has dipped, he looks shaky out on the floor, and definitely isn't looking like the same player that opposing teams feared last season. Ben Gordon has been the main bright spot, offensively speaking. He leads the team in scoring, but it always seems like he has to exert a tremendous amount of energy to get his points. If he goes down (like he almost did when he bumped knees with a teammate last night) then the Bulls are going to be in a world of hurt. Nocioni was a gunner out there, but that's nothing new. He looked decent out there but I feel like he chucked up way too many three pointers. Tyrus Thomas provided a nice spark off the bench, but Scott Skiles doesn't seem to trust him out there on the floor.



The Bulls' defense was the foundation of the team and it appears to have vanished. Their transition defense was put to shame against the high-octane offense of the Phoenix Suns and Leandro Barbosa absolutely lit them up from the three point line. They gave too many easy baskets on fast breaks, back door cuts, and open jumpers. For a little while, it seemed as though the Bulls would dig themselves out of the hole they made but a turnover here and a bad shot there ended any hopes of a comeback.

The Bulls' main problems are that there is no go-to guy and there is no real leadership on the team. Case in point - Adrian Griffin called a players-only meeting to discuss the team's troubles. I appreciate him stepping up to the plate, but let's be real here; this guy is getting ZERO minutes. Why is the guy who is barely on the roster the one to be calling players-only team meetings?

The Bulls have five more games to play on this road trip and the way they are playing, there is a very real possibility that they will come back to the United Center with a record of 1-11. Not only would that be a nightmare for them to recover from, but it should also bring about the removal of many members of the Bulls organization. Many analysts are saying that the Bulls shouldn't panic because the season is still young, but at this point I think we've been figured out as a team and need to make some drastic changes immediately.

Oh well...there's always Cheria.


Posted byEnigmatik at 9:03 AM 3 comments Links to this post    
Labels: Chicago Bulls, Phoenix Suns, recap